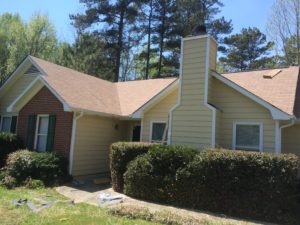 Homeowners often come across different roofing problems that can occur due to wear or old age of the structure. When owning a home, there are a number of common roofing problems that can develop over the years. Those who need professional assistance with maintaining the roof can contact Eagle Watch Roofing, a roofer Peachtree City can trust to repair damage and take preventative measures.
Sagging
Sagging of the roofing structure can begin to occur when the materials have lost their durability, causing the top of the building to look slanted or as if it's about to cave in. Although the sagging can be repaired, most roofing professionals recommend that the entire structure is replaced immediately.
Leaks
Leaks are prone to develop due to missing shingles or tiles on the home after they've become loose. A significant amount of leaks also develop near the flashing on vents or chimneys, which can cause moisture to get in once the material lifts off of the roof. If water stains are present on the ceiling inside the building, the flashing will likely need to be replaced.
Standing Water
Standing water is prone to develop on roofs that are flat and don't have a slope. This can cause too much pressure to be placed on the structure for leaks that begin to develop. If water begins to accumulate on the home, a professional will need to drain all of the moisture to prevent damage to the roofing materials.
Blow-offs
Roofing materials can easily blow off of the home in the middle of a storm or due to high winds. This is common with single ply membranes, which can quickly lead to damage and make the property vulnerable to leaks.
For homeowners who experience common roofing problems Eagle Watch Roofing, a roofer Peachtree City can count on, is ready to help and remedy any issues that may be present or may develop in the future. Homeowners can have peace of mind knowing that the interior of their building is protected from damage that can occur. A professional roofer will also help to prolong the lifespan of the roof and can inspect the structure for other damage that may be visible.